loner's valentine
a short story by Julie Gard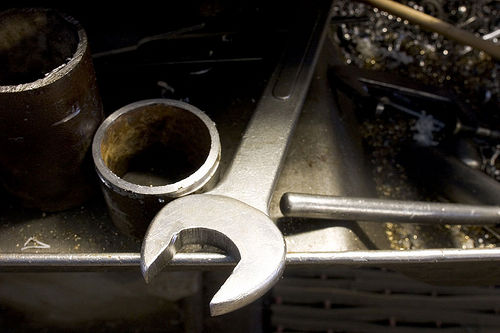 I was in love once, with a man not many could appreciate. I watched him fix cars while eating dinner with the family, back when I was an enthusiastic middle school science teacher in plaid polyester and nuclear warhead-proof glasses. We had a shining picture window and I took in Buford Paulson while chewing well-ketchuped meatloaf and forkfuls of canned corn.
Buford never finished college. Pedants! he cried with a wrench in his hand. He didn't have a wife because they demanded too much, he told me in a muffled voice from beneath an aqua Corvair. He was pure, a modern-day suburban Thoreau living off of social security and a modest inheritance hidden beneath box springs (or so neighborhood lore had it), a proto-Unabomber sans violent streak. I admired a man who didn't compromise.
My wife and I made the most of 1960's life in suburban Cincinnati. After the kids were in bed, she lay on the couch and swooned to Janis Joplin and I retired to the attic to "grade papers." I had a fine view of Buford from there, since he spent evenings working on odd projects in his own cluttered attic space. He burned a single bulb that hung on a cord from the ceiling like a make-believe moon, casting a double of him against the slanted wall.
When I got up the nerve I'd stand next to Buford while he worked on one of his junkers, breathe him in while making up questions about brakes and engines. He seemed to enjoy the company; he never had a lot of friends.
I always had a lot of lab reports to grade.
You're a science teacher, he said to me one particularly sweaty summer evening. Can I show you something.
We went into his home, dim and fantastically cluttered, and down narrow basement steps. I tripped over a wooden ski jutting out into the cleared path. Buford reached for my hand to steady me, and he held it. His eyes were two starless nights.
Jim, he said.
I ran my fingertips along his palm as I pulled away, felt lifelines blur into calluses and a swooning heat. I turned and walked through the clutter, up the stairs, into a glittering slice of freshly mown July. It was 1971.
My wife left me in '74. The children were grown at that point, at least as much as they'd ever be. I purchased a townhouse in an eclectic part of the city where I still live now as a feisty old man in vintage plaid. I can't complain about my late introduction to the lifestyle; I had my share of fun in the fading days of my youth. Through all the fun, though, I never forgot about Buford.
He refused to talk to me after the incident; his eyes never met mine again, not even through glass kitchen window. A few years back, I heard from my ex-wife that his home had been condemned and he'd moved into a boarding house in the city.
I thought you should know, she said.
Until yesterday, I hadn't seen Buford for 28 years. I knew right away it was him, those same stolid biceps and funneled gaze. His hair has gone white. I saw him riding a rickety Schwinn along the riverfront, determined among wandering families. I closed my eyes as he disappeared and could still sense the darkness, cool scatter of lab reports, and bite of scorched sawdust from Buford's workroom just ten feet away.
I have always been careful, with a closet full of well-ironed shirts and one clean gin and tonic a night. I think of the young maple growing through a rusted Chevette in Buford's yard, in a neighborhood of polished Fords that knew nothing of nature. The tenuous passageways between stacks of newspapers in his living room, the basement full of broken record players and half-finished model airplane kits. And I can't explain my longing for the wildness of it all.
I will search for him in a hopeless section of town; I will teach him what it is to love an old body like mine, an old body like his. I will show him what has changed and how nothing has, as I slip my hand under his wrinkled white T-shirt and the heat of my palm burns into his chest.

Julie Gard is an assistant professor of English at Bismarck State College in Bismarck, North Dakota. Her writing has appeared in Clackamas Literary Review, Crab Orchard Review, and a number of other literary journals and anthologies. After completing an M.F.A. at the University of Minnesota, she lived in Vladivostok, Russia as a Fulbright Fellow from 2000-2001.