Calls for Submissions:
FLASH FICTION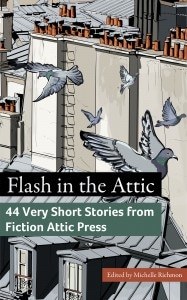 Flash Fiction: We are always on the lookout for great flash fiction– 1,000 words or fewer–to publish online and in print. Go here to submit your flash fiction.
For online publication, we accept only original flash fiction. However, for our next flash fiction anthology (pictured), previously published work will be considered.
---
ESSAYS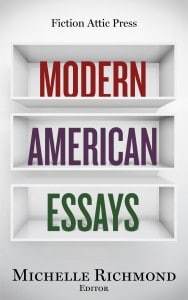 Essays: We are currently seeking submissions to complete our anthology Modern American Essays.
To see examples of the kind of work that will appear in this anthology, see the award-winning essays "The Electric Discharge Corona," by Anne-Marie Yerks, and "Spoken World," by Brett Garcia Rose. We want essays that make us feel and make us think, essays that help us to see the world in a new way.
For this anthology, we will consider previously published work; please let us know when and where your essay was originally published.
---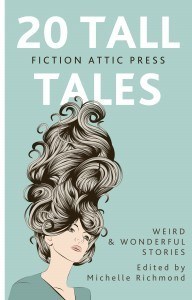 Tall Tales: Weird and Wonderful Stories from Fiction Attic Press.
*Entry fee: $5
If you have a strange, intriguing story, please consider us! We received only 56 submissions for this anthology and really need more good work to consider! We are re-opening submissions for a period of one month, with a deadline of June 30, 2016. GO HERE TO SUBMIT YOUR STORY.
*All entry fee proceeds will go toward publishing this anthology.
---
SHORT STORIES
Fiction Attic Press is always seeking submissions of original short stories for publication online and possibly in print.
Submit your short story of at least 1500 words here. 
Want to know more about the kind of work we publish? Check out MODERN SHORTS: 18 Short Stories From Fiction Attic Press, or read a sample story from the anthology.
---
Rights for stories published online: We ask that authors not publish the work in print or online  until six months after it appears on the Fiction Attic website.
---
A note on simultaneous submissions: While we will do our best to read your work as soon as possible, it may take us a very long time to respond. For this reason, we not only accept but in fact encourage simultaneous submissions. That is, feel free to submit your manuscript elsewhere at the same time that you submit it to Fiction Attic. No hard feelings if it is accepted elsewhere and you need to withdraw the submission. We'll be happy for you! We only ask that you let us know when it has been withdrawn so that we can remove it from our active submissions list.
---
Previous Calls for Submissions
We welcome book-length submissions from writers who have not previously published a novel through our First Novel Contest.
Update: We received 25 submissions for our second debut novel contest. The winner was Magdalena Waz. You can pre-order her novel here.
Deadline: July 30, 2015
*Entry Fee: $15
Prize: $300 and publication
Read about the winner of our inaugural First Novel Contest, Homing Instincts by Karen Guzman.
*All entry fee proceeds for this contest go toward awarding the winning entry and publishing the novel. 
---
Call for Submissions: Short Story Collection, 2015
Please note we are currently reading these submissions as of June, 2016. We received 29 submissions in this category.
We welcome book-length submissions from writers who have not previously published a story collection through our Story Collection Contest.
Deadline: July 30, 2015
*Entry Fee: $15
Prize: $250 and publication
*All entry fee proceeds for this contest go toward the prize money for the winner and publication of the winning book.
---
A NOTE ON ENTRY FEES
Fiction Attic Press receives no outside funding. For submission categories that include an entry fee, please note that ALL proceeds go toward awarding prize monies and publishing the book.
Fiction Attic has no paid staff.  We contract out design work. Entry fees do not cover but do defray the costs of cover design, interior design, title setup at Ingram Spark (which makes our books available to bookstores), and the purchase of ISBN numbers.
If you like what you see at Fiction Attic and believe in the importance of small presses, I encourage you to support the press with your subscription or your one-time donation of just $5. 
Fiction Attic Press needs readers: If you are a current MFA candidate or recent MFA graduate who would like to gain small press experience by reading submissions or proofreading and designing future books on a volunteer basis, I would dearly love to hear from you.
Michelle Richmond
---