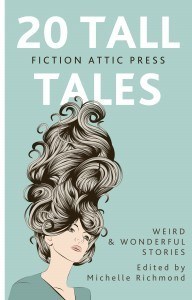 Fiction Attic Press is seeking submissions for our upcoming anthology, Tall Tales: Weird and Wonderful Stories From Fiction Attic Press.
If your story is strange and tantalizing, thought-provoking and mesmerizing, we'd love to read it! Think Julio Cortazar, Ursula LeGuin, Kelly Link, George Saunders, Ray Bradbury, Count Olaf…and you! We're open to magical realism, fantasy, science fiction–anything that is tremendously well-written and deeply engaging, and strange.
Prizes:
The winning story will receive $100, publication as a single story ebook, and publication in the anthology.
19 additional stories will be be selected for publication in the anthology. The authors of these stories will receive both the print and digital editions of the book.
All entrants will receive a digital copy of the anthology. Authors will be paid $10 for stories published online.
Deadline: December 30, 2014
Submission fee: $7.00